PowerView® Motorisation
Smart Shades that simplify your life
Smart Shadesfor your window
Imagine a world where your window shades adjust themselves automatically, creating the perfect room ambiance morning, noon and night. That's the beauty of PowerView® Motorisation.
Available with
Roller Blind, Raffinesse, Double Roller Blind, Roman Shades, Vertical Blinds, Plissé and Duette
morning
7:30 AM Good Morning!
[Living Room]
Evening
8:30 PMGood Night!
[Bedroom]
Smart shades that simplify your life
Imagine a world where window coverings anticipate your needs and adjust themselves automatically, creating the perfect room ambience, morning, noon and night.
That is the beauty of PowerView Motorisation – just program PowerView to move your window coverings to the exact position you want and then control and schedule them using the intuitive PowerView App on your smartphone or tablet.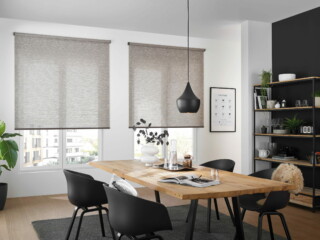 Pebble "stone frost / weiß"
Pebble Remote
Use the optional PowerView® Pebble® Remote to quickly adjust any single or group of PowerView® shades with just a push of a button. Enter a room and, like switching on a light, your shades operate your command with the stylish Pebble® available in 10 different colours. The Pebble® is the perfect union of form and function, both simply elegant and elegantly simple.
PowerView® Gateway
Planning to have shades that are spaced throughout a large home? An optional gateway provides additional range and reliability to ensure all shades operate when you want them to. With the gateway you can also control your shades with your favourite voice assistant or home automation system. With the Gateway you virtually control your entire home from anywhere in the world. Move individual shades, activate Scenes, create or edit Schedules and more!
PowerView Motorisation is available with an unrivaled selection of sophisticated, styles, fabrics and colours from LEHA.
Open & Extendable
Innovation in design
The coffee is on. The day is effortless getting under way. And your shades rise to welcome in the glorious early morning sun and gently warm your mood.
Later, when you're busy doing nothing, you don't want to be constantly readjusting Shades. So let PowerView® Motorisation keep your home bright and airy, without the glare of harsh sunlight.
Once another day comes to end. So it's time to shut out the night and keep everyone safe and warm. PowerView® Motorisation takes care of everything while you get on with bath time and stories.
FAQ about PowerView Gen 3
Developed in cooperation with