Art. Nr. 02290 Zenit, Farbe edelstahloptik
Curtain Rod
Decorative design

Robust and easy to maintain

Made to measure (accurate to the millimeter)

5-Year-Warranty
LEHA has been a partner of interstil for many years, and with good reason, they are the pioneer in the world of curtain rods and rails. Interstil is a name that stands for design, quality, variety, and attention to the last detail.
Trending at the moment is the round rod with an inner rail, fitting in rooms of different size and shape, it is the perfect interior design piece.
Best for:
Regular windows (rectangular)
Large windows & Floor-to-ceiling windows
Curved Spaces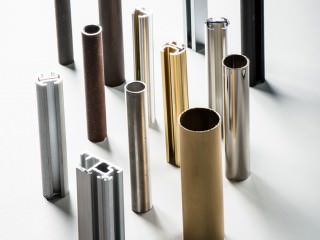 Good to know
Selection of many different styles and finishes
Made from premium materials as stainless steel, brass, wrought iron, aluminium and wood
Rods with diameters of 8/10/12/16/18/20/25/28/30/35 mm
Custom bending
Elegant mounting bracket with no visible screws
integral edition (optional): less mounting brackets and still a perfectly straight rod (no sagging)
The classic way: open and close the curtain by hand.
further operating
options are available.
Ripplefold
Elegant, persistent and evenly spread ripples
New age of curtains
Choose any suitable fabric from your decorator